6. Makeup Artist: Sarah Dorrian
It's not a character until a MUA does their thing.
3 years ago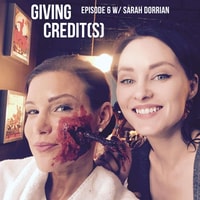 Episode 6
Actors are just people until a makeup artist does their thing
This week's episode is with Sarah Dorrian who has a solid career in the world of film makeup.
Take a look at her IMDb credits here.
Topics: Makeup, set life, women in film, actors, harassment, sexism, art, awareness, creativity, and so much film talk.
Support Giving Credit(s) by donating to the tip jar: https://tips.pinecast.com/jar/givingcredits
Find out more on the Giving Credit(s) website.
This podcast is powered by Pinecast.