4. Costume Designer: Keelin Quigley
It's less about who are you wearing and more about who is wearing what.
3 years ago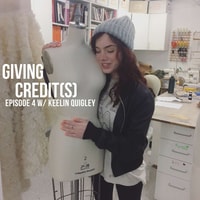 Episode 4
Actors aren't characters until they're dressed the right way. This week we talked to Keelin Quigley; who I have had the pleasure of working with on the feature The Way You Look Tonight which is currently in post-production.
We had a good time talking about set-life and how some of that makes it's way to home-life, like for many of us.
You can check out her credits on IMDb
Support Giving Credit(s) by donating to the tip jar: https://tips.pinecast.com/jar/givingcredits
Find out more on the Giving Credit(s) website.
This podcast is powered by Pinecast.